Cancer woman's London to Paris charity ride bike stolen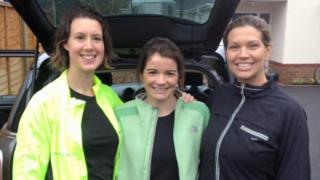 A bicycle, bought for a woman so she could cycle to Paris to raise money for cancer equipment, has been stolen.
Thieves broke into sheds in Poole and took the Scott Contessa Speedster 45, bought for Joanne Green by her father.
Ms Green, who has incurable cancer, is due to cycle 300km (186 miles) from London to Paris in 24 hours for cancer charity Planets.
It is raising money to buy a specialist intraoperative radiation therapy machine for Southampton Hospital.
The machine allows patients to receive radiotherapy during operations to treat cancers that cannot be completely removed.
'Despicable and callous'
Thieves broke into the sheds in St Osmunds Road in the early hours of Wednesday 27 January.
Ms Green said: "I'm not really a cyclist but I thought it would be a great experience so my Dad bought me a bike so I could get involved... I'd had it a week.
"When I woke up and my bike had been stolen - although I am very fit and very well - it felt like a bit of a blow, that I was trying to do something positive for the charity... but someone had come and taken my bike."
Sgt Ray Willmore, of Dorset Police, called it a "despicable and callous crime" and appealed for information.
Ms Green, who has treatable but incurable neuroendocrine tumours - a rare, slow-growing form of cancer - is one of more than 50 cyclists, including medical staff and patients, raising money for cancer care charity Planets.
Her doctor, Brian Stedman, has raised enough money through the Just Giving website to replace the bike so she can begin training.
The ride to Paris is due to start on 24 June.