Former council leader dies after crash in Wareham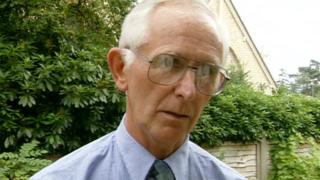 A former leader of Dorset County Council who was also a priest has died after being struck by a car in his home town.
Rev Colin Hodge, 76, suffered serious head injuries in the crash in Wareham on 19 January and died in hospital on Sunday.
Mr Hodge, who had retired, was leader of Dorset County Council for seven years during the 1980s and 90s.
His family said they were "devastated" by his death.
In a statement, they said he "will be missed so much by everyone who knew him."
"He was a well-known figure in his local community and we wish to thank all those who assisted at the time of the incident and the medical teams at Poole Hospital that cared for him prior to his death."
Mr Hodge, a Conservative, was made mayor of Wareham in 1967 and was at the age of 28 the youngest mayor in the country.
He represented the town on the county council from 1970 to 1981 and from 1983 to 1997. He was leader of the council from 1987 to 1993.
According to the Diocese of Salisbury, Mr Hodge became a priest in 1983 and served in the parishes of Wareham, St Peter's in Parkstone and Lilliput in Poole.
Wareham Town Council held a minute's silence in his memory ahead of its meeting on Tuesday evening.