Weymouth Pleasure Pier to close for repairs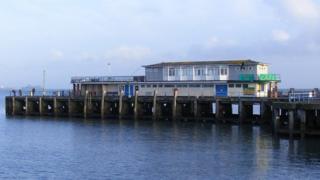 An 80-year-old pier on the Dorset coast is to close for six weeks while engineers carry out vital repairs.
Weymouth Pleasure Pier needs work on its concrete sub-structure for it to remain safe.
The pier and its approach will be shut from 1 February. The work forms part of wider improvements to the pier peninsular.
The car park and Jurassic Skyline attraction will remain open throughout the works.
Weymouth and Portland borough councillor Ian Bruce said: "These works form part of a necessary safety upgrade for the pier to ensure public welfare comes first.
"The pier is over 80 years old and needs thorough maintenance to allow continued enjoyment of the area."
The current pier was built in concrete in the 1930s, replacing a timber structure, and was opened in 1933 by Edward, Prince of Wales, before he became king.
Earlier this month, Weymouth and Portland Borough Council announced £1.9m of funding to meet the cost of urgent repairs to the harbour walls.