Jurassic Coast warning after further cliff collapse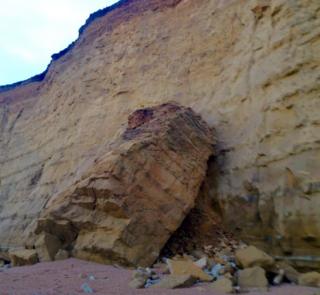 Coastguards have warned people to be "vigilant" after a second section of cliff collapsed along the Dorset coast.
West Bay Coastguard said a new fall to the west of Hive Beach, under Burton Cliffs, had been reported by its rescue team.
Police and the National Trust joined them to help establish the extent of the fall.
A West Bay Coastguard spokesman said: "Members of the public should be vigilant.
"Never walk under the cliffs, stay away from the cliff edge when walking on the coastal path and always keep your dog on a lead."
Signs warning of the peril are in place on the beach and cliff top.
The collapse, which happened at about 16:00 GMT on Tuesday, was close to a large rock fall reported on New Year's Eve.
In 2012, Charlotte Blackman, 22, of Derbyshire, was killed on Hive Beach when around 400 tonnes of rock fell from the cliff.