Bournemouth 'lap dancing industrial estate' could be created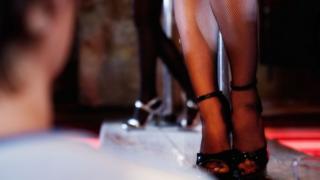 The idea of putting lap dancing clubs on an "industrial estate" out of town has been floated by councillors.
Bournemouth Borough Council is reviewing its policy in relation to sex establishment licensing ahead of a public consultation.
Councillor Andrew Morgan said at a meeting: "Is there anywhere else we think would be suitable? Some sort of industrial estate out of town?"
Sexual entertainment venue licence numbers are being reviewed.
'Not moral view'
Mr Morgan said: "There are no plans to move lap dancing clubs to an industrial estate, but that's one option.
"We want to encourage children and families to linger in the town centre in the early evening.
"It warrants a serious look to see if lap dancing clubs are compatible with a tourist town in the 21st Century.
"It is not a moral view, it is trying to see what's compatible with a tourist resort."
Councillors agreed at the meeting that the area around Horseshoe Common, where there are two such clubs, had changed in recent years.
A public consultation is due to start in February on the number of venues the town should have.