Poole Christmas lights charity money theft 'sickening'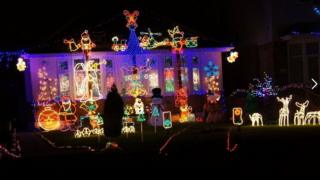 The mother of a seriously ill boy has described the theft of charity money intended for her son as "sickening".
Two buckets, thought to contain about £300, were stolen from a charity Christmas lights display in Poole, Dorset, on Friday evening.
Some of the money had been intended to send seven-year-old Morgan White, who has a life-threatening skin condition, on holiday to the US.
A fundraising page set up to replace the cash has raised more than £460.
Residents of Runton Road decorate their houses each year to raise money for a number of charities.
The stolen containers, which were found empty in a nearby garden, also contained money raised for the Forest Holme Hospice in Poole.
'Time against us'
Kerry White said: "It's sickening because on the bucket was Mason's story and pictures of my son and what they are actually raising money for. It's just heartbreaking really."
Mason suffers from Epidermolysis Bullosa (EB), a painful, incurable condition which causes his skin to blister.
Ms White said: "We do a lot to raise money for research and trials but this family and this road want to raise money for him. Time is against us with what he's got and I don't know what life expectancy he's got.
"Every day is precious. He wants to go to America, he wants to go to Marvel Land, he loves wrestling and he wants to swim with dolphins - he's never even been in a swimming pool because of his bandages."
It is thought the buckets were taken between 22:00 and 23:00 GMT on Friday, shortly before they were due to be brought in and emptied.
The display, which has been running for two decades, attracts thousands of people and raises about £8,500 each year.