Dorchester Prison development: Plans for 190 homes and museum submitted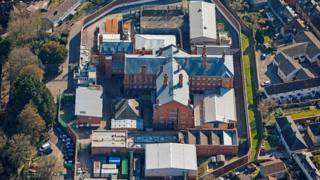 Plans to include a gatehouse museum in the redevelopment of a Victorian prison have been submitted to council bosses.
Dorchester Prison could be turned in to a site for 190 homes if plans are backed by West Dorset District Council.
Heritage developer City & Country bought the mostly Victorian building in February after it closed in 2013.
After public consultations on plans for the site the developer said the listed gatehouse would be turned in to a "museum or interpretive space".
Plans for a hotel had previously been discussed, but it was decided there was not enough demand in the area.
City & Country said the final design "reduces the scale of the northern blocks", which will mean better landscaping and views.
An exhibition is due to be held in early January for residents to view the proposals.