Robbers steal £6,000 from Royal British Legion club in Southampton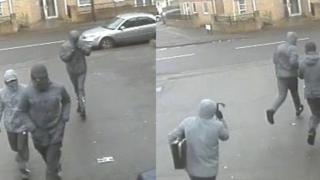 Robbers carrying crowbars stole about £6,000 from a Royal British Legion club after threatening and pushing a 67-year-old man.
The three men were captured on CCTV entering and leaving the building on Sholing Road in Southampton by the front door on Tuesday at 10:00 GMT.
Police said they pushed and threatened a pensioner and demanded to be shown the safe.
The man did not suffer any lasting injuries but was physically shaken.
After stealing about £6,000 the men left on foot, turning right out of the club, before crossing the road and walking down an alleyway.
Hampshire Constabulary said the men were all dressed in dark clothing with their faces covered and were carrying crowbars.
Det Con Andy Spooner said: "This crime was pre-planned and targeted a vulnerable person with the use of violence.
"What has happened is unacceptable and investigators require the assistance of the community to identify the persons responsible."
Anyone with information can contact the Western Investigations Team by calling 101 and quoting reference number 44150438575.