Weymouth's Larkin Windows Ltd in liquidation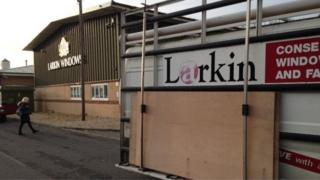 Up to 50 jobs are at risk after a Dorset glazing firm declared it had gone into liquidation.
Staff at Larkin Windows Ltd in Weymouth said they had been left "in limbo" for Christmas after being told to clear their desks on Monday.
The firm currently has 115 contracts which are either in progress or where work is yet to begin.
Customer Jo Holbrook, who was due to have a conservatory fitted, said she was "in a state of shock".
On its website, the company said it had entered "voluntary liquidation".
Staff from the company, on Jubilee Close, told BBC Radio Solent they had been given no warning, and only found out when they received a letter on arrival at work on Monday.
One employee said staff had been left "in limbo" with "no money for Christmas".
Ms Holbrook, from Cosmore, near Dorchester, said she had hoped the conservatory would be completed by Christmas.
Builders started laying the foundations and a retaining wall about two weeks ago.
Although she has not yet paid any cash for the work, she said she was unsure where she stood because she had signed a contract.
David Meany, director at Ashtons Business Recovery, said a shareholders and creditors meeting would take place in Ringwood on 23 December.
Concerned customers who have queries regarding contracts, guarantees, finance agreements or deposits have been asked by the firm to contact a variety of bodies and companies, including the Double Glazing and Conservatory Ombudsman Scheme.