PCC warns government over Dorset's 'porous ports'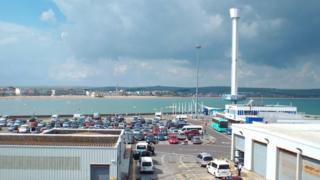 Dorset Police and Crime Commissioner Martyn Underhill has urged the government to review port security following the terror attacks in Paris.
Mr Underhill wrote to the Home Secretary asking what was being done to bolster the Border Force in Dorset.
He described the county's ports as "porous", leaving it vulnerable.
The Home Office declined to comment, but the National Police Chiefs Council said a review had found resources were being deployed in the right places.
Mr Underhill said he wanted to see cuts to South West Special Branch reversed - following a review, intelligence officers are due to be moved to cities from next year.
'Unopposed access'
He said: "Dorset has a coastline of over 85 miles and main ports situated at Poole and Weymouth. In my initial manifesto I pledged to keep - and have kept - a Marine Section within the Dorset Police.
"However, its reduced capacity does not cater for a 24-hour, seven-day-a-week service. This exposes the coastline as a vulnerable point for unopposed access to the county, unless we have a strong Border Force and Special Branch Ports Unit as well.
"Dorset borders the Channel. The threat to us as a county is very clear."
A National Police Chiefs Council spokesman said a review of counter-terrorism resources had been under way for two years and proposed measures would ensure counter-terror policing had the "flexibility to prioritise" resources where there was the "greatest threat".
The Home Office said it would not comment on operational matters.