Dorset Police officers sacked over 'inappropriate relationship'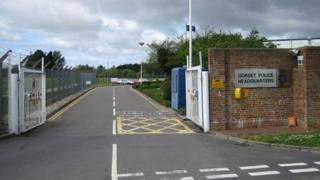 Two officers have been sacked from Dorset Police after one of them became involved with a vulnerable woman he met during the course of his job.
PC Neil Bowditch and Sgt Mark Hughes were dismissed without notice for gross misconduct by an independent panel.
Both officers tried to cover up the "inappropriate relationship", Dorset Police said.
The panel concluded the officers' behaviour had "fallen woefully short" of policing standards.
The four-day hearing, at Dorset Police HQ in Winfrith, was told PC Bowditch first met the woman in a professional capacity in July 2013, before they got together.
Both men were based at Poole police station and were suspended from duty while the investigation took place.
Neither officer attended the hearing.
Deputy Chief Constable James Vaughan, of Dorset Police, said: "PC Bowditch was a frontline officer working in a position of trust. His conduct was completely at odds with the values of Dorset Police and he has let down the public, his colleagues and the wider police service.
"Sgt Hughes conspired with his colleague to cover up this inappropriate relationship and his failure to report this conduct has resulted in his dismissal.
"Our officers are duty bound to adhere to the highest standards of professionalism and integrity at all times."
PC Bowditch was found guilty of two charges in relation to breaching the Standards of Professional Behaviour including honesty and integrity, discreditable conduct and challenging and reporting improper conduct, while PS Hughes was found guilty of one charge.