Rare jelly creatures wash up in Dorset after storm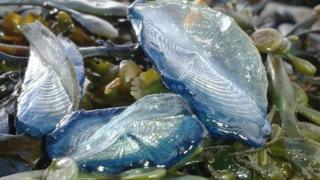 Thousands of tiny jelly creatures have washed up on several Dorset beaches in the wake of Storm Desmond.
Flotillas of velella velella, known as By-the-wind Sailors, have been found on beaches near Lulworth and Bridport.
Julie Hatcher, of Dorset Wildlife Trust, said: "They are designed to blow around and never come to land so to get a big mass stranding is rare."
The trust advised people not to handle them as the sting on their tentacles could cause discomfort.
Native to the Azores it has a 'sail' on its back which enables it to be blown by the wind across the sea.
The creatures, which resemble jellyfish, are a colony of animals related to the Portuguese man-of-war.
The Dorset Wildlife Trust is asking people to report their sightings on the charity's website.