High Speed Ferries' Weymouth to Cherbourg ferry plan delayed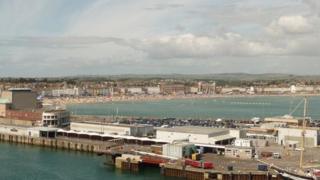 A new passenger ferry service from Weymouth to Cherbourg in France has been delayed.
High Speed Ferries had hoped to have crossings up and running from April next year.
The company is planning to use the terminal left by Condor Ferries, which moved its services to Poole.
The borough council, which has been in commercial negotiations with the potential operator, said the firm needed "further financial backing".
Jonathan Packer, director of High Speed Ferries, said: "We are working very hard on this, we have invested a lot of time and money in it and it's going fine, and we have other investors."
He said the firm would make a "formal statement" in the new year.
The council is now considering whether or not to keep the port open beyond the end of March.
The ferry company had said the crossing, which would be its first, would take under two hours and create 90 jobs in Weymouth and Portland.
The firm had looked at starting a service to France from Portland in 2010.