A338 Bournemouth roadworks set for festive travel break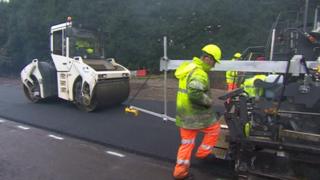 Major roadworks on the main route into Bournemouth will be suspended over the Christmas period to help motorists.
The first phase of the £22m scheme on the A338 Bournemouth Spur Road is due to finish on 14 December.
Dorset Council Council said the road would reopen to four lanes but with a 40mph speed limit to "help people travelling over the festive period".
The second phase, which will see the southbound carriageway rebuilt, will start on 4 January.
The work, which being carried out round-the-clock, six days a week is due to finish at the end of May.