Melbury Abbas unstable slopes work could be put on hold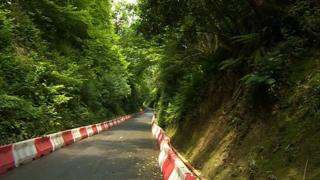 Planned repairs to a Dorset road with unstable slopes is expected to be put on hold.
Major works had been planned for the C13 at Dinah's Hollow, which links Blandford to Shaftesbury, amid concerns its steep-sided banks could collapse.
The stabilisation work would have involved driving metal rods measuring up to 12 metres (39ft) into the banks
A council report has raised questions about the economic benefit of work, which will cost at least £4m.
Part of the road was closed in April 2014 amid concerns the banks, which are at an angle of more than 60 degrees in places, could engulf a car if a slip occurred.
It reopened in July with traffic management measures put in place.
The council has earmarked £4m for the repair work to cover the stabilisation of the slopes in Dinah's Hollow and reinstating local roads that have seen more traffic since restrictions were put in place.
An economic study which investigated transport infrastructure from Poole and Portland ports to the M4 questioned whether significant investment in such local routes would have an economic benefit.
Peter Finney, the council's cabinet member for environment, said: "Currently the studies have shown that rural bypasses, although needed by local residents, fail to demonstrate the potential that will lead to economic growth.
"We need to look at the longer term plan and if this means delaying the remedial work in Melbury Abbas to ensure future economic benefits for the county, then we have to consider it."