Boscombe flat death: Recording of final minutes of victim's life played in court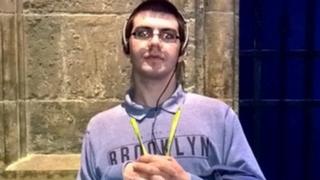 A recording of the final moments of a murder victim's life was played during the trial of his former partner.
Phillip Nicholson, 22, died from a stab wound to the neck at a flat in the Boscombe area of Bournemouth on 26 May.
Isabella Gossling, 20, denies murdering him. Her lover Richard Moors, 25, has admitted murder.
The 17-minute recording was played at Winchester Crown Court. Mr Nicholson is heard saying: "Stop, I just want to be friends, please."
The recording was made on Ms Gossling's phone.
The jury was told Moors inflicted the fatal wound to Mr Nicholson's neck.
Ms Gossling insists she could do nothing to stop the attack.
The jury also heard how the couple had previously taken £800 from Mr Nicholson's bank account.
The trial is ongoing.