World War One Dorset coast shipwreck created in 3D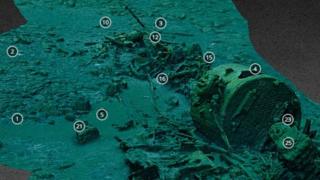 Archaeologists have created a 3D digital model of a World War One shipwreck off the Dorset coast.
The John Mitchell was on war service maintaining and patrolling anti-submarine nets when it hit another vessel and sank in November 1917.
The wreck of the steam-powered fishing boat lies at a depth of 40m (131 ft) about 15 miles south of Christchurch.
The 85ft (25m) vessel has been pieced together from hundreds of photographs taken during dives on the site.
The model has been created as part of the Forgotten Wrecks project - a four-year project to research some of the 700 wrecks on the south coast.
Archaeologists hope to survey as many of them as possible before they disintegrate.
The wrecks include merchant and naval ships, passenger, troop and hospital ships, and crashed aircraft.
Run by the Hampshire based charity, the Maritime Archaeology Trust, it is being funded through a grant of £1.1m from the Heritage Lottery Fund (HLF).
The information collected from the dive will be shown online and in a series of planned exhibitions.