Unlawful Shaftesbury war memorial cemetery plan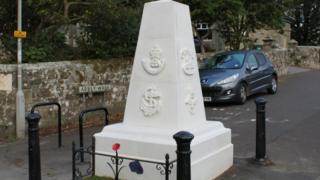 An "illegal" war memorial built near the ruins of an ancient abbey is set to be relocated to a cemetery in Dorset.
The 6ft (1.8m) Portland stone structure was erected by the town council in Park Walk, near Shaftesbury Abbey, in 2013.
However, it was removed after English Heritage said it was put up within the grounds of the scheduled ancient monument without consent.
The council now hopes to relocate it to Mampitts Cemetery in the town. This is the third plan for its relocation.
In October last year, town councillors initially voted for it to be moved to Castle Hill Gardens.
However, in June councillors then agreed to give the memorial to The Rifles with Wyvern Barracks in Exeter, Devon, proposed as a possible new home.
The Rifles said it was unable to accept the memorial as it already had a memorial in each of its battalion barracks "so there was nowhere it could be sited", the council said.
The memorial features the cap badges of regiments, including the Devonshire and Dorset, which later merged into The Rifles.
The proposed move is set to be discussed at a full council meeting on 1 December.