Weymouth's Nothe Gardens memorial trees vandalised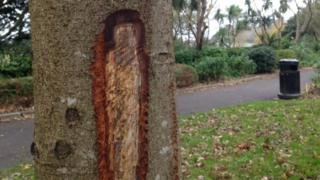 More than 40 trees, many donated in memory of loved ones, have been vandalised at a Dorset park.
It is feared the trees at Nothe Gardens, Weymouth, will either die or have to be felled as a result of the damage.
They were vandalised between 29 August and 6 November in four separate incidents, police said.
A spokeswoman said "deliberate and systematic cuts to the base of the trees" had caused the damage.
Andy Blackwood, from Weymouth and Portland Borough Council, said described the damage was shocking.
"What is particularly distressing is that a majority were donated, in some cases over 20 years ago, to mark the death of a loved one," he said.
"The inscribed plaques in front of these trees clearly tell the story of someone's loss. To attack these trees in full knowledge of the impact that this will have on loved ones is truly callous."
The council said it was in the process of writing to donors to explain what had happened.