Jurassic Coast photo wins top prize in Landscape Photographer of the Year awards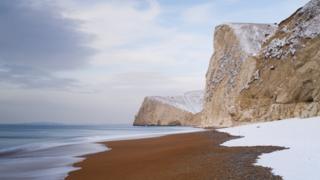 A snow-swept image of the Jurassic Coast in Dorset scooped the top prize in the Landscape Photographer of the Year awards.
The shot of a calm sea alongside warm-coloured sand and snow-capped cliffs at the World Heritage Site was taken by Andy Farrer, from Dorset.
He beat thousands of entries showcasing the UK landscape to win the overall title and £10,000.
Judges praised his photograph for its "simple, effective composition".
Emmerdale actor Bill Ward was also among the category winners for a close-up of a swirling stream in the Yorkshire Dales.
Pictures of dry stone walls in the snow, a train heading over a dramatic viaduct and urban and rural landscapes were also winners.
Charlie Waite, landscape photographer and founder of the Take A View Landscape Photographer of the Year awards, said the overall winner was a "classic scene".
He said: "Andy's winning photograph of this beautiful area of Dorset's Jurassic Coast is a gentle image with a simple, effective composition that reflects the mood of a cold winter's morning.
"It is believable and appealing, with the snow adding an interesting dimension to a classic scene."
Mr Farrer said he thought he was "hearing things" when he received the call that he was the winner.
The awards were held in association with VisitBritain.