Colin Dymond jailed for murdering ex-partner over 'affairs'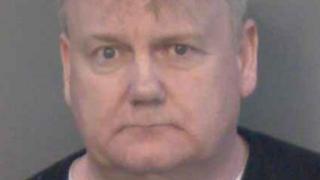 A construction firm manager who strangled his ex-partner and scrawled "that's the price you pay for having four affairs" on the wall of her flat has been jailed for murder.
Colin Dymond stabbed Sarah Pollock, 41, twice in the neck when she was unconscious at her home in Bournemouth.
Ms Pollock was found on 25 March after failing to turn up to work.
Dymond, 53, admitted murder and was jailed for life with a minimum of 16-and-a-half years.
Police said the pair had been in a relationship for about five years and had lived together for some of that time.
Shortly after Ms Pollock moved into the flat in Avon Close at the end of June last year she discovered Dymond, from Saltash in Cornwall, had been having a relationship with another woman.
In the weeks before she died, she had started a new relationship with another man and had been trying to end all contact with Dymond, Dorset Police said.
Winchester Crown Court heard there had been a history of jealously and violence in the relationship and Dymond went into a fit of rage after finding a text message from a man on Ms Pollock's phone.
Her body was found on the bed in her bedroom while Dymond's message was found written on the lounge wall.
Officers discovered there had been no sign of forced entry and later established Dymond had a key to the flat.
Following his arrest, a public appeal was made to find his missing hire car.
It was eventually located in an underground station in London and contained significant evidence, including a blood-stained jumper.
In a statement, Ms Pollock's family said: "The horrifying realisation that such a cowardly individual chose to murder a loved member of our family has been very traumatic.
"All our family are broken as we continue to contend with the knowledge that Sarah's final moments in this world consisted of being alone, frightened and literally struggling for her life in the face of a cold-blooded, despicable murderer.
"He is truly evil and whatever time he ends up spending in jail is immaterial and cannot begin to make up for the loss of Sarah."
Det Insp Mark Samuels said the murder was a "selfish, callous and horrible act".
"If anyone is in a violent or potentially violent relationship, they mustn't suffer and I would really encourage people to come forward and we'll take positive action to prevent violence happening in the future," he added.
'Chilling note'
Kerry Maylin, principal crown advocate for the Crown Prosecution Service in Wessex, said even though Dymond was having affairs with other women, he was "consumed" by jealousy, causing him to launch a "catastrophic attack" on Ms Pollock.
She added: "He then left the flat, travelled to Eastleigh, and drove back to the scene... he told the police that he saw that her body was lifeless and covered her with a duvet as he did not like seeing her like that.
"When the police arrived at the scene they could see written on the wall: 'The price you pay Sarah for having 4 affairs, I have killed myself... I have tried everything, sorry I snapped, so many lives devastated, now I am so sorry, you were my life, I worshipped you, rest in peace, all my love.'
"Colin Dymond admitted that he was the author of this chilling note."