Bid to buy Portland's Underhill School as community asset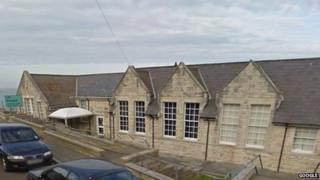 A community group has launched a bid to buy a 102-year-old former Dorset school building as a community asset.
Underhill School, known as the "school on the cliff", closed last July.
Portland Community Partnership (PCP) has lodged its intention to bid for the site with Weymouth and Portland Borough Council.
It has until 10 December to seek funding and submit its proposals to Dorset County Council, which owns the building.
The school, which PCP said had a guide price of £500,000, was listed as an asset of community value by Weymouth and Portland Borough Council on 2 June.
PCP's announcement of its intention to bid has triggered a six-month moratorium on the sale, which means the county council cannot legally sell it, other than to a qualifying community or voluntary body, until after 10 December, the borough council said.
PCP said a community consultation in 2013 showed "a mixed approach to the site would be the most appropriate".
Suggestions included a children's centre, elderly care centre, GP surgery and library.
It said it intended to hold a public consultation on the formation of a Community Land Trust (CLT), and on any proposal options before the bid was submitted.
CLTs are nonprofit organisations that develop and manage homes, and other community assets, on behalf of a community.