Rampisham Down solar farm: Government orders public inquiry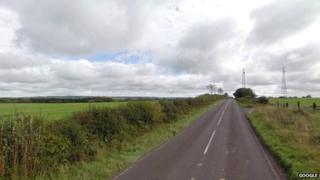 A public inquiry is to be held into a proposed solar farm in Dorset, following a government decision.
The 25MW solar scheme at Rampisham Down was granted planning permission in 2014 but was put on hold by the government over environmental concerns.
The Department for Communities and Local Government confirmed a public inquiry would be held.
Developer British Solar Renewables insisted the scheme would be beneficial to the local economy and environment.
The firm's managing director, Angus McDonald, said: "There is now a defined timeline to the process. We feel we are working in a positive direction to finally get this project delivered."
The application by the company for the 76 hectare (187-acre) solar farm, near land formerly used as a radio transmitter station, was approved by West Dorset District Council in December.
Then Secretary of State Eric Pickles later issued a direction preventing the granting of planning permission while representations from Natural England were considered.
'Worrying precedent'
An online campaign by Dorset Wildlife Trust opposing the scheme has attracted more than 10,000 supporters.
The trust said Rampisham Down Site of Special Scientific Interest (SSSI) was a "nationally important wildlife site" and a vital lowland acid grassland habitat.
Chief executive Dr Simon Cripps said he was "delighted" by the government decision.
"We have raised serious concerns that undermining the designation of a SSSI is not only harmful for Rampisham Down but also sets a worrying precedent for the protection of similar sites.
"DWT is supportive of renewable energy development in the right place but Rampisham Down is the wrong place for this damaging development."
Nearly 120,000 panels on steel frames would be installed under the plan, following demolition of 34 radio masts and towers.
British Solar Renewables previously said using solar panels coated with glass with a low-iron content to reduce reflectivity, along with their height off the ground, would benefit wildlife.
Other environmental measures in their proposals included creating a "wildlife corridor" between the park and surrounding habitats.