Poole memorial to Royal Navy Cordite Factory blast victims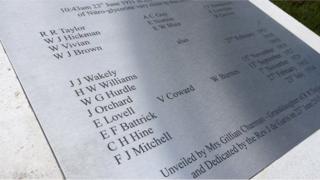 A memorial has been unveiled to commemorate 10 people who lost their lives in an explosion at the Royal Navy Cordite Factory in Poole in 1931.
A smokeless propellant designed to replace gunpowder was created at the factory in Holton Heath.
Three buildings were destroyed when a storage tank ruptured, spilling sulphuric acid into the area, on 23 June 1931.
The blast reportedly knocked people to the ground up to two miles (3km) away.
The Portland stone memorial, which was unveiled close to the explosion site, also commemorates the lives of 10 others who died in various accidents at the factory between 1917 and 1934.