Charborough Estate solar farm plans set for approval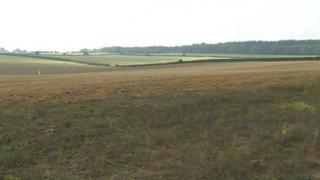 Plans for a solar farm on land owned by a Dorset MP look set to be approved despite opposition from residents.
East Dorset District Council has recommended proposals for 90,000 solar panels across 44 hectares (106 acres) - the equivalent of 69 football pitches - should be allowed.
South Dorset MP Richard Drax owns the Charborough Estate but the solar farm would be run by company Good Energy.
The council has received more than 650 objections from residents and groups.
Among the concerns were its size, visual impact and the loss of agricultural land.
The Campaign to Protect Rural England (CPRE) said the solar farm was too big.
Catherine Butler, from the Mapperton Campaign Group, said the local authority had not taken into account the "unprecedented" level of local opposition.
"This is vast - it's just totally out of scale. The problem here is the industrialisation of the countryside destroying a beautiful place," she said.
The council has also received more than 50 letters supporting the solar farm, which could generate enough electricity to supply 6,344 homes.
Woodland screening
Good Energy said it would contribute to a community fund and offer reduced price electricity to local residents.
A council report said the solar farm would only result in "very localised significant landscape and visual effects" but mature hedges and surrounding woodland would help screen the site.
East Dorset District Council gave permission for the initial plans in 2013 but campaigners won the right to a judicial review.
Good Energy subsequently decided not to contest the review following legal advice.
Plans for the solar farm were downscaled earlier this year from 70 hectares (175 acres) of land and councillors will discuss the application on 23 June.