Bus crashes through Bournemouth shop window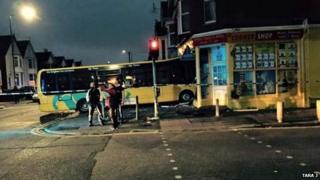 A bus has ploughed through a shop window in Bournemouth after a crash involving a car.
It happened at the junction of Alma Road and Heron Court Road in the Winton area at about 02:30 BST.
A member of the public called the emergency services after hearing a "loud bang", police said.
Both drivers were taken to hospital with non-life threatening injuries. Three bus passengers were treated for minor injuries at the scene.