Suspects sought over Wareham Channel yacht arson attack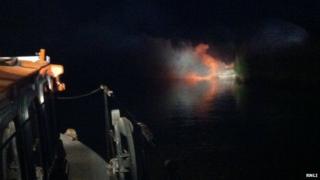 Three men are being sought by police in connection with a fire on a yacht moored off Poole Harbour.
The blaze, which destroyed the 35ft (10.5m) vessel on Sunday night, is being treated as an arson attack.
The three men, all described as white and aged in their 30s, were spotted nearby at the time of the fire at Swineham.
A ground and air search was carried out following the fire but failed to trace the men.
The cause of the fire is under investigation.