Child abuse accused ex-pilot Bartle Frere 'liked to help boys'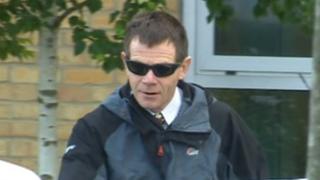 A former British Airways pilot on trial for child sex offences has told a court he liked to help boys purely to encourage them and see them develop.
Bartle Frere, 51, from Shipton Gorge, Dorset, said he carried out unpaid photography work at several private schools in England.
Police searched his home in November 2013 and seized DVDs, boy's underwear and Viagra, the jury heard.
He denies a string of sexual offences dating back to 2001.
'Aesthetically pleasing'
At the start of his defence at Bournemouth Crown Court, Mr Frere explained how he became closely associated with the schools through his love of photography and film-making.
He produced images of school trips, sports events and theatrical productions, the jury was told.
Mr Frere claimed he did the unpaid work because he was pleased to help and be involved.
When asked by his defence barrister about his sexuality, Mr Frere said he had a low sex drive and described himself as asexual.
"I do find young boys aesthetically pleasing to look at," he added.
Mobile phone gifts
The jury heard details of Mr Frere's stop-overs in India while he was working for British Airways.
He befriended youngsters in one fishing village near Chennai, handing out gifts including mobile phones, the court learned.
His barrister asked him if the gifts were provided as an inducement for sexual favours, which Mr Frere denied.
He was arrested the day after his home was searched in November 2013, as he got off a flight at Heathrow Airport.
The trial has previously heard some DVDs seized from his home were of underage boys wrestling naked.
Mr Frere had also searched the internet on his phone to find out "where to pick up underage boys in Bangkok", the court was previously told.
He denies a total of 16 sex offences involving boys and teenagers, including sexual assault and making indecent images.
The trial continues.