Eastern Lyme Regis coastal protection work complete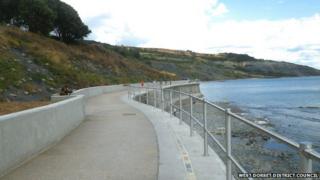 A two-year project to protect almost 500 Dorset homes from coastal erosion for the next 50 years has been completed.
Work started in April 2013 to build a 1,200ft (390m) stretch of sea wall in the eastern part of Lyme Regis.
Slopes at Church Cliff and East Cliff were also stabilised.
The Environment Agency said the £19.5m project was one of the "largest and most complex" coastal protection schemes attempted in England for years.
West Dorset District Council said the work has helped protect homes at risk of destruction, damage or loss of access.
The authority said it will also safeguard Charmouth Road and Church Street as well as utility pipes and cables.
Councillor Peter Shorland said: "In the past 100 years, Lyme has experienced loss and damage to properties, landslip and erosion of the foreshore and breaches to its sea defences."
He said the project will "protect" the town in the future.
The work was funded by a £14.6m of government grant, £4.27m from Dorset County Council and £600,000 from West Dorset District Council.
In May 2008, about 1,300ft (400m) of cliff slipped between Lyme Regis and Charmouth, exposing an old landfill site.
About 12 miles away 22-year-old Charlotte Blackman, of Heanor, Derbyshire, died when a 160ft (50m) high cliff at Burton Bradstock collapsed, in July 2012.