UKIP supporter hurt in Bournemouth placard confrontation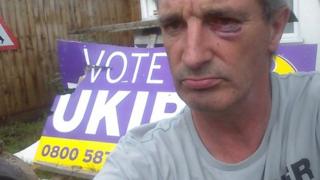 A UKIP supporter has been injured after confronting men who ripped down an election placard in his garden.
Mark Smith suffered minor injuries to his face, arms and leg when he was attacked at his house in the Kinson area of Bournemouth on Monday.
He described it as "an infringement of freedom of speech".
Dorset Police confirmed officers had been called to a report of an assault involving a group of five young men. No arrests have been made.
The men are believed to have left the scene by car before police arrived.
Mr Smith said the 8ft (2.4m) by 4ft (1.2m) poster had been targeted earlier in the election campaign.
"I was remonstrating with them and ended up getting punched in the face and ended up on the floor," he said.
"It's an infringement of freedom of speech - it's completely out of order, they shouldn't be doing it."