Grayson Perry sketch auction aids Willow Tree Group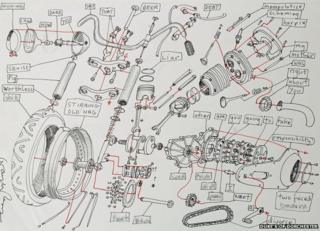 A sketch by artist Grayson Perry has raised more than £4,000 to aid a cash-strapped mental health support group.
The artist sent the ink drawing on a piece of A4 paper to the Willow Tree Group, in Blandford, Dorset, after hearing it needed funds to continue.
An attached note read: "This drawing by Grayson Perry... is probably worth about £2,000. Good luck!"
Barrie Smith, of the group, described the donation, which sold at Duke's of Dorchester, as "hugely generous".
"I had seen Grayson Perry on the news and on the TV and he seemed a sympathetic and caring person who might help," he said.
"I wrote to him via the Saatchi Gallery and a few weeks later a package arrived. Normally, I tear these things open but for some reason I didn't with this one, which was just as well.
"I couldn't believe it."
The artist, who won the Turner Prize in 2003 and was appointed CBE in 2013, is known for his often sexually explicit ceramic work.
He based his sketch on the "mechanics of the mind", according to Amy Brenan from Duke's.
"Grayson Perry has drawn a series of disjointed motorbike engine parts in black ink, highlighted with red pen and shaded with pencil, with speech bubbles enclosing expletives and adjectives describing a disturbed mental state," she said.
"The sketch is extremely powerful and typifies Grayson's use of contemporary and controversial themes, often with an autobiographical theme.
"For example, phrases used in the sketch include 'When are you going to take responsibility?', 'My mother was right about you' and 'I want a divorce'.
"It is almost a dissection on paper of someone's troubled mind."
The sketch was sent to the support group by special delivery and marked: "Sender: G. Perry. Do not bend."
Included in the £4,392 auction sale were the Jiffy bag it was sent in and the Post-it note Perry wrote to the group.