FlyBe resumes Bournemouth Airport flights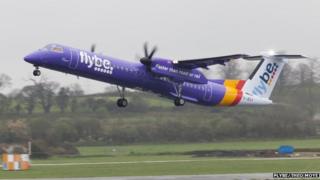 Low-cost airline Flybe has reopened a base at Bournemouth Airport, five years after it left the facility.
FlyBe pulled out of the terminal in 2010. The first of two daily flights to Glasgow is due to depart 17:00 BST.
Flights to Amsterdam, Manchester, Paris Charles de Gaulle, Jersey, Dublin, Deauville, Toulon and Biarritz are due to begin in May.
Exeter-based Flybe is also the main carrier at Southampton, less than 30 miles from the Bournemouth terminal.
The airline said it would continue to operate 27 routes throughout the summer from Southampton.
Bournemouth Airport, which opened a new £45m terminal in 2010, has been primarily used by Ryanair and Thomson Airways.
The airport is owned by Manchester Airports Group, which also runs Stansted, East Midlands and Manchester airports.