Long lost wedding ring found in Weymouth Harbour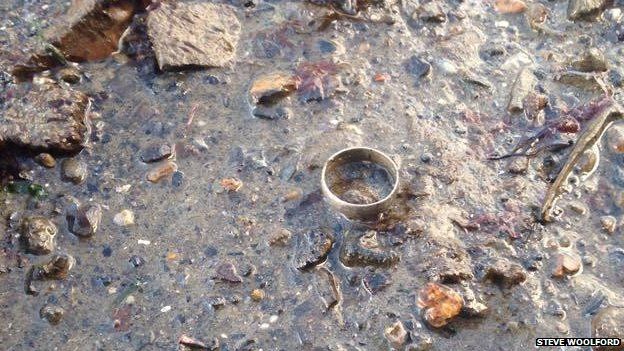 A wedding ring lost by a Dorset lifeboatman on an emergency call six years ago has been found at low tide.
Mark Thorne dropped his ring as he helped launch the inshore lifeboat in Weymouth Harbour in 2009.
Despite attempts to find it on his return, it was lost until his friend Steve Woolford spotted it during a walk at low tide on Saturday.
Mr Thorne said he was "really, really chuffed".
When he returned from the emergency in 2009, he searched under water and used a metal detector in an attempt to find the ring.
He said he had "given up hope" of finding it, despite occasionally returning to look for it.
Mr Woolford said he was "over the moon" to have found it during a walk along the harbour when Saturday's spring tide left much of the shoreline exposed.
He said he remembered the search for the ring and thought "you never know, it's worth a look", before he spotted it glinting in the mud.
Mr Thorne, who was married in 2004, was able to identify the platinum ring from its size and a distinctive dent.
"I think I owe Steve a bottle of whisky," he said.