Community bid for Weymouth beach chalets rejected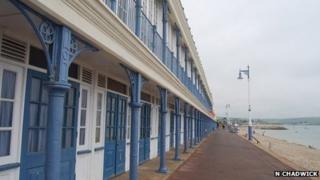 A bid for the community to take over the running of beach chalets in Weymouth has been rejected.
Greenhill Community Asset Management made the proposal after Weymouth and Portland Borough Council put a 125-year lease for the chalets out to tender.
But councillors voted to keep the chalets under council control.
A report to the council's management committee said there were concerns with the bid, including its reliance on volunteers to undertake repairs.
The council will repair the units and will cover the cost by a combination of increased market rents and the sale of some of the chalets.
It said existing winter licensees will be able to relicense from 1 April, with fees subject to a 5% increase.
A more detailed report from officers will be published in March.
The council had previously said the 107 single and two-storey chalets, a putting green, tennis courts, a cafe and public toilets had become too expensive to maintain.
It had said there was an £800,000 repair bill associated with the concrete chalets.
The two-storey Esplanade chalets were given Grade II-listed status by English Heritage in 2008, which means they have to be retained.
Greenhill Gardens will continue to be owned, managed and maintained by the council for public use.