Lost wedding ring salvaged at Poole recycling centre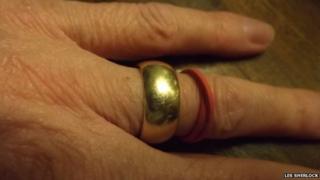 A 70-year-old man has been reunited with his wedding ring after losing it at a tip in Dorset.
The band slipped off Les Sherlock's finger at a recycling centre in Poole while he was disposing of some garden rubbish with his wife of 48 years, Gill, 71.
The couple described the ring, which cost £7.50 in 1966, as "priceless".
It was salvaged by staff who searched a 35 yard (105ft) skip "on their hands and knees", the borough council said.
Mr Sherlock is now using an elastic band to keep the ring in place after weight loss, due to illness, caused it to become loose.
He said: "As committed Christians, when we got home my wife prayed that God would lead the men to my ring, but I was inconsolable, knowing it was impossible they could find a small ring in a huge skip about one-third full of garden waste.
"When we returned to the tip and I was able to replace it on my hand, I completely fell apart, hardly being able to believe it."
He added he would be "forever grateful" to the staff at the centre "for the honesty, integrity, persistence and care" they showed him.