Hospital cancels operations to cope with patient increase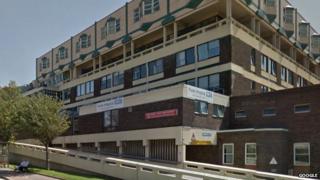 A hospital has cancelled operations to cope with an increase in the number of patients admitted this winter.
Poole Hospital said it experienced "significant pressure" last weekend, leading to "a number" of cancelled elective surgeries.
Dorset County Hospital and the Royal Bournemouth Hospital also reported an increase in patient numbers.
The South Western Ambulance Service Foundation Trust said demand had been "extremely high" this weekend.
Poole Hospital NHS Foundation Trust said in a statement, there were 254 attendances to the emergency department on 27 December - 17% higher than the busiest day over the Christmas period in 2013.
It said it had cancelled the operations "in order to prioritise our staff and services towards patients requiring urgent treatment".
There were 751 emergency department attendances at Dorset County Hospital between 22 and 28 December.
Service manager Shane Cowan said: "Many of these patients were acutely ill, which presents capacity and demand issues.
"In addition, difficulties experienced by other organisations resulted in an increase of attendees to the minors part of the emergency department.
"This then contributes hugely to the cause of delays whilst the emergency team are having to prioritise focus on the very sick patients."
The Royal Bournemouth Hospital reported a 24% increase in the number of patients visiting its emergency department between 25 and 28 December compared to the same time last year.
A spokesman said: "Our staff have been working exceptionally hard to offer a high quality care service during this time, pulling together with partner organisations, providing extra staff, sourcing extra beds, and trying new, innovative ways of successfully meeting the rise in demand."