Portland soldier's account of WW1 Christmas Day truce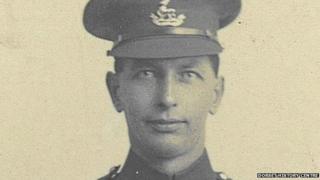 A soldier's account of the World War One Christmas truce in 1914 will be published online for the first time.
Portland's Regimental Sergeant Major George Beck wrote about the ceasefire on the Western front, when soldiers came together to play football.
Writing on 24 December, he said: "Germans shout over to us and ask us to play them at football, and also not to fire and they would do likewise."
His diary entries, held at the Dorset History Centre, can be read online.
They are also being published on Twitter @RSM_GBeck, providing a day-by-day account.
'Remarkable event'
On 25 December, he wrote: "Christmas Day. Not one shot was fired.
"English and German soldiers intermingled and exchanged souvenirs. Germans very eager to exchange almost anything for our "Bully Beef" and jam."
RSM Beck, originally from the Midlands, served on the Western Front for the whole of the conflict and was awarded the Military Cross in April 1918.
His granddaughter Caroline Milverton, who lives on Portland, said: "As my grandfather did not expect his diaries to be read by anyone other than himself or his family if he died while fighting, he had no reason to write anything but the facts; the Christmas Truce 1914 was a remarkable event."
Councillor Colin Jamieson, Dorset County Council cabinet member for community services, said: "The Christmas truce of 1914 has passed into folklore, and this year those events are particularly resonant.
"To view it through the eyes of a solider from Dorset, who was actually there, is quite remarkable.
"As with so many other things from our past, the Dorset History Centre has helped bring it to life."