Poole beach hut tenants used as 'cash cow'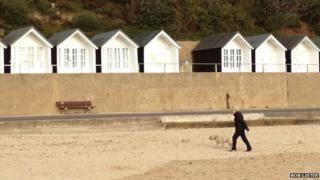 A beach hut association in Dorset has accused a council of using tenants as "cash cows" to help boost its coffers.
Beach hut tenants in part of Poole will see annual rents rise from £1,342 to £1,809, when 27 huts are replaced with new, two-storey blocks next year.
Poole Beach Hut Association said ordinary people were being priced out.
Borough of Poole said the huts would have been worth more on the open market but it was trying to be fair to tenants while maximising its assets.
The rent rise includes a 7.5% increase applied to all beach huts in the borough.
Last week, the council announced it would build 88 new huts to help cut its waiting list of more than 1,200 people.
At Branksome Chine East, 62 beach huts will be built over two storeys on the site of the 27 single-storey 1930s wooden huts.
'Big cuts'
Bob Lister, chairman of the Poole Beach Huts Association, said: "They [the council] think the beach hut is a luxury item that people can do without.
"Our 300-plus members, in the main, are either pensioners on fixed incomes with no gardens, or young families who probably don't go on holidays. Putting this cost up is pricing these people out of the market."
Open spaces councillor Xena Dion said tenants had been given the option of moving to a cheaper hut or one of the new huts at a 10% discount for the remainder of the first year.
She said: "Those beach huts are extremely old, they are not built to last forever.
"We are facing big cuts and the bottom line is they are in the country's prime beach location.
"If they went on to the open market, we could get a lot more for them, but we respect and value our existing tenants too much to treat them as cash cows."