Santas chase Christmas pudding across Weymouth beach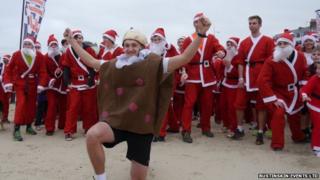 About 280 runners dressed in Santa suits have chased a "Christmas pudding" across Weymouth beach for charity.
The winner Rob Wood caught last year's champion, 18-year-old Luke Voss, who was dressed up as the pudding.
This year the annual Dorset event raised money for local charity the Will Mackaness Trust.
The Wey Valley School pupil died of a brain tumour in 2008. The trust aims to give more water sport opportunities to young people in Weymouth and Portland.
Organisers estimate about £2,000 has been raised by the event, which last year was attended by about 150 people.
The 5km (three-mile) course saw entrants run from the pavilion to The Groyne at Greenhill, and back again.
The event, organised by Bustinskin Events Ltd, is in its seventh year.