Mummified children's nurse was under 'final warning'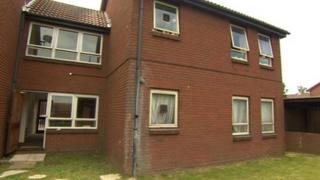 A nurse who worked in a special care baby unit and was found mummified in her flat in Dorset was under investigation, an inquest has heard.
Anne Gabrielle Leitrim's body was found at the Bournemouth flat by bailiffs in June who had gone to repossess the flat after the mortgage had not been paid.
The inquest heard the 58-year-old was being investigated for "inappropriate conduct towards a child".
It is thought she had been dead in the property for seven years.
A pile of post for Ms Leitrim about waist high had built up in the hallway of the flats, where neighbours said they thought Ms Leitrim had moved away.
'Loved my babies'
Ms Leitrim who worked at Homerton University Hospital, east London had been given a final written warning at a disciplinary hearing on 6 June 2007.
The inquest heard she had been taking medication for anxiety and stress for about 10 years.
The coroner said a note found at the flat could be treated as a suicide note - but there was no physical evidence at the scene to indicate she had taken her own life.
The note in Ms Leitrim's handwriting read: "My doctor's have done anything wrong. I loved my babies. goodbye Janet."
At a post-mortem examination no toxicology test was possible to check for drugs or alcohol. Medication found at the flat was still in its foil wrapper.
An open verdict was recorded.