Beach sport arena plans for Sandbanks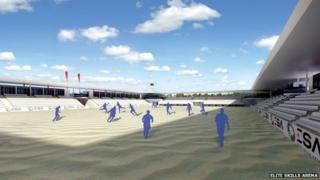 Plans have been submitted to replace the Sandbanks resort's pavilion in Dorset with a sports arena.
Eddie Mitchell, former AFC Bournemouth chairman, wants to build a 3,900-capacity venue to house beach sports.
The three-storey building would be used for sand sports including football, volleyball, polo and show-jumping.
It could also host concerts and would include 40 replacement beach huts, and 40 new beach "studio boxes" along with shops, food outlets and offices.
The plans will be considered by Borough of Poole councillors.