New homes sought for rescued Dorset hens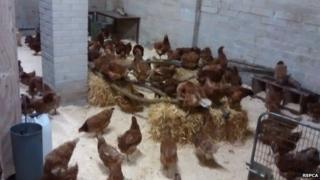 The RSPCA has made an appeal to re-home 227 hens and a cockerel that have been removed from a Dorset property.
The charity took the birds from their owner after the hens became sick and the owner struggled to cope.
The flock is being housed in a barn by the charity and they have been treated for a disease called Mycoplasma, which has symptoms similar to a cold.
According to the charity the birds are still capable of laying and living a perfectly normal life.
RSPCA inspector Patrick Bailey said: "Now they are back to being healthy we are hoping there are some kind members of the public who would like to offer them a new home in time for Christmas."
Anyone who would like to re-home one of the hens should contact the RSPCA for further details.
The charity is requesting a donation of £1 per bird.