240 employees leave Sunseeker luxury yacht maker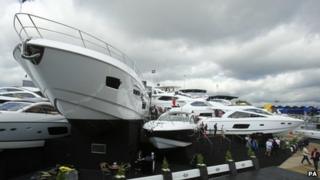 Luxury yacht maker Sunseeker International has axed 240 posts.
The company, based in Poole, Dorset, said the majority of these employees had taken voluntary redundancy or were "natural" leavers.
In October, it announced that up to 300 jobs would go as part of a "strategic review" to "increase efficiency".
The company is famous for providing yachts for James Bond movies. In 2013, Chinese property developer Dalian Wanda Group paid £320m for 92% of the firm.
In a statement, Sunseeker said it had "advanced its formal consultation process" with staff and said there may be further voluntary redundancies accepted to limit the need for compulsory redundancies.
"The skilled craftsmen on our shop floor remain key to the business and as expected the restructuring has had minimal impact on our direct boat-building activities," it said.
"The overall outlook for the business remains positive and the board believes Sunseeker is now in the best shape possible to maintain its strong position at the forefront of the global leisure marine industry from our base in Poole."
Sunseeker International produces a range of 40ft-155ft (12m-47m) luxury motor yachts, employing 2,100 people at seven sites in Dorset.