Beach huts built in Poole to cut waiting list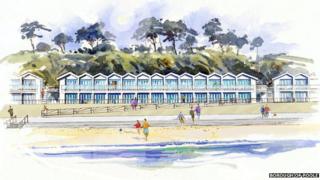 Eighty-eight new beach huts are to be built on a Dorset beach as the council tries to cut a 12-year waiting list.
Work on the £1.35m scheme at Branksome Chine and Flaghead Chine in Poole is expected to begin on 12 January, with the huts due to be ready in July.
In January 2014, the council reopened applications for huts for the first time in seven years after the waiting list reduced to about 200 people.
New applicants face a wait of between 12 and 20 years for a hut.
There are more than 1,200 people on seven separate waiting lists for huts in Sandbanks, Hamworthy, Branksome Chine, Canford Cliffs, Shore Road, Branksome Dene and Flaghead Chine.
Applications are only open to Poole residents who must pay a non-refundable fee of £25 for each list they join, which has so far earned the council in excess of £25,000.
At Branksome Chine East, 62 beach huts will be built over two storeys on the site of 27 single-storey wooden huts.
At Branksome Chine West, a two-storey building of 16 huts will replace a shelter and at Flaghead Chine, 10 new beach huts will be built on top of an existing block of 10.
Open spaces councillor Xena Dion said: "It's an exciting and long-awaited building project for Poole beaches as we can start to reduce the waiting lists for our very popular beach huts."
Borough of Poole is expected to have earned about £1.3m this year from renting more than 1,000 huts.
The longest wait for a hut is at Sandbanks where there are 282 people on the list and the waiting time is, on average, 20 years.
The shortest waiting times are at Branksome Chine and Shore Road where applicants can expect to wait an average of 12 years.