Dorset's PCC calls for Taser ban in police cells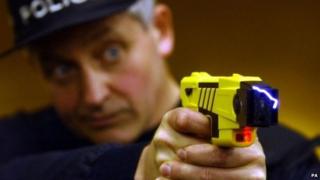 A ban on Tasers being used by officers in police cells is being called for by Dorset's police and crime commissioner.
Martyn Underhill said he was "shocked" to hear of three cases where detained people, at least one with mental health issues, were Tasered inside a cell.
Mr Underhill said: "A person in mental health crisis being Tasered in a cell just sounds obscene, it's got to stop."
He has asked for stricter Home Office guidelines, but the force said it followed nationally-approved policies.
Mr Underhill, who is also the chairman of the APCC Mental Health Working Group, said: "We agreed to Tasers being deployed as an alternative to shooting someone dead.
"Now, they are being deployed all over the place including in cell blocks - we need stronger scrutiny and guidance."
Police guidelines stipulate the device, which can deliver a 50,000 volt charge, may be used where officers face "a risk of serious violence".
'Last resort'
The force's assistant chief constable, David Lewis said: "I have confidence in the professionalism and decision making of the specially-trained officers who have access to Tasers within Dorset Police.
"Dorset Police follows strict nationally-approved professional practice for the use of Taser. This method of intervention is not deployed lightly but rather as a last resort.
"We welcome scrutiny about the way we use force in the course of protecting the public in Dorset and will respond to the PCC's letter as requested."
Guidelines set by the Association of Chief Police Officers (ACPO) cite: "Occasions will arise where it is necessary to use the Taser on a person who is exhibiting violent behaviour and who is also suffering from a mental disorder or illness.
"Where it is possible to discuss options with mental health professionals, this should be considered."
A BBC Freedom of Information request revealed earlier this year that Taser use by police forces in the south of England had more than doubled between 2012 and 2013.
Tasers were introduced in England and Wales in 2003. In 2008 Tasers were rolled out across England and Wales, and were not limited to specialist firearms officers.