Body parts killer Nathan Robinson sentenced to life in prison for father's death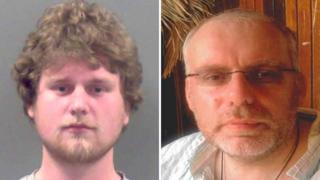 A son who killed his father and put his dismembered body into storage boxes he was using as a TV stand, has been jailed for life.
Nathan Robinson, 27, cut up William Spilller's body at their flat in Bournemouth in May 2013. He subsequently travelled around the country spending his father's cash.
He was found guilty of murder following a trial at Winchester Crown Court.
Robinson was told he must serve a minimum of 30 years in jail.
Robinson, who lived with his 48-year-old father in Stedman Road, had admitted manslaughter on grounds of diminished responsibility at his trial last month.
'Dire' financial situation
He had told the court he had only limited memories of the killing and that his father had abused him as a child.
Robinson cut up his father's body with a Stanley knife and hacksaw then stored the body parts in plastic boxes, with a television placed on top in the victim's bedroom.
Mr Spiller's head was placed in a box and put in a filing cabinet.
Nigel Lickley QC, prosecuting, said during the trial Robinson owed his taxi driver father £36,000.
The defendant's financial situation was described as "dire".
He went on to spend £8,000 of Mr Spiller's cash travelling around the country visiting friends and family.
'Particularly gruesome murder'
In a statement, Mr Spiller's partner Glenys Molyneaux, said: "The past 18 months have been extremely traumatic for myself and my family, from first receiving the dreadful news of Will's death until the trial which revealed the full horror what happened that day.
"Will was a loving, caring man with a hilarious sense of fun and humour.
"No sentence can bring him back but we are satisfied that the verdict of guilty was the appropriate one for this heinous crime."
Speaking after the conviction, Desmond Duffy, senior crown prosecutor in Wessex, said: "Not only did he dismember his father's body, he paid the month's rent on the flat, purchased two Vax cleaners to remove blood stains from the floor and pretended his father was still alive by sending texts to one of his father's best friends and to his father's partner, who became very worried and alerted the police."
Senior investigating officer Det Ch Insp John Gately described it as "a particularly gruesome murder."
"What is clear from the evidence is that Nathan Robinson went to great lengths to try and mislead the police and the victim's partner," he said.
"My thoughts go out to Mr Spiller's family and friends."