Great Dorset Steam Fair WW1 trenches to stay in place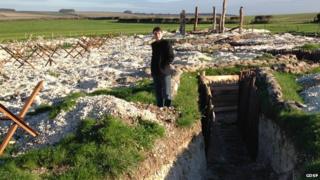 Replica World War One trenches, dug as part of a centenary commemoration at the Great Dorset Steam Fair, are to be kept in place.
The 150ft (45m) long and 6ft (1.8m) deep trenches were built on the show site at Tarrant Hinton during the summer.
Show organiser Martin Oliver said keeping them for the next four years was an "appropriate tribute".
It is hoped they will be used by schools.
The front line and support trench were created to replicate those on the Western Front in France 100 years ago.
They were built in a zigzag formation with duck boarding to walk on, tin and wooden panelling on the sides and sand bags lining the front edge.
Mr Oliver said: "Many of our visitors told us that this year's World War One special display was incredibly moving, and it would be a shame to remove a spectacle that causes such reflection before the centenary is over."
The annual Great Dorset Steam Fair is one of the country's leading steam heritage events, attracting more than 200,000 visitors each August.