Dorchester O2 signal disruption problem 'to end'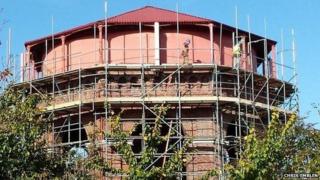 Work that has disrupted the O2 mobile phone signal for several weeks in Dorchester is due to finish later.
Residents and businesses have expressed frustration since September after being left with little or no service.
Wessex Water said repairs to its tower in the town, which O2's mast is attached to, would finish "by end of play".
O2 said it would consider compensating affected customers on a "case-by-case basis".
Intermittent service began with O2's own upgrade work, but it said Wessex Water's tower repairs led to further disruption.
A Wessex Water spokesman said any signal problems for O2 customers once its work was complete, would be "unrelated" to the water firm.
He added: "We have continued to go through the proper channels when it comes to making O2 aware of different stages of our work, giving the appropriate amount of notice for them to inform their customers."
But, Chris Emblen, who works in the town, said he had only received two texts from O2 alerting him to specific days the service would be off.
O2 had said "planned outages" were listed on the company's website and added the firm alerted customers, via text, about its own upgrade works "a few months in advance".
An O2 spokeswoman said any customers wishing to discuss compensation should contact the company.