New ferry bound for Poole as Weymouth counts cost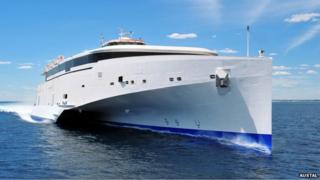 A new ferry to serve Dorset and the Channel Islands has begun its journey from the Philippines to the UK.
The 102-metre vessel is heading for Southampton for its final fit before going into service next March.
It will mean the end of ferry services from Weymouth, which cannot accommodate the larger ship, as Condor Ferries moves its operations to Poole.
Weymouth Harbour is now considering how to cope with the loss of the £750,000 annual income earned from the port.
The Harbour Management Board is discussing whether to dispose of the quayside buildings associated with ferry services, focussing instead on marine businesses to boost income.
Borough councillor and board chairwoman Kate Wheller said: "If we are not going be a ferry port any more, savings can be made.
"All the buildings that were just used by the ferry service are redundant and, more importantly, we need to realise the potential income streams of the harbour."
'Bon voyage'
The new Condor vessel, which set sail on Thursday, is expected to take four weeks to complete the 10,500-nautical-mile journey from Austal's shipyard in Balamban, Cebu, across the Indian Ocean, through the Suez Canal and the Mediterranean.
It was built at Austal in Freemantle, near Perth, Australia, and will be finished by Southampton marine interior fitter Trimline.
Condor operations director Capt Fran Collins said: "Our teams have worked tirelessly, both to prepare the ship for service and her journey back, and so our thanks go to everyone who has played a part in the project so far.
"Our crew now have several weeks at sea bringing her home, and we all wish them bon voyage."
Weymouth and Portland Borough Council spent £4.5m repairing its ferry port after the harbour wall collapsed in 2012.
Earlier this year, Condor announced it would be buying a bigger ferry, which could not be accommodated at Weymouth without a further £10m of works to the quayside.