Woman criticises South Western Ambulance over brain bleed call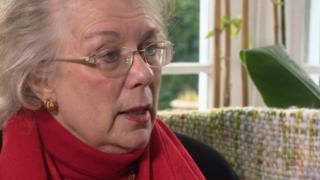 A woman who spent six days in intensive care after a bleed on the brain has criticised a decision not to send her an ambulance.
Susanne Parkin, 73, from Corfe Mullen, Dorset, developed head pains in May.
She said an ambulance was not sent as answers to the 999 operator "didn't tick the right boxes".
South Western Ambulance Trust maintained it was right to refer her to the out-of-hours GP service.
Mrs Parkin said she had woken with intense pain in her head during the night.
When her husband Michael called 999 and was asked a number of questions, he was told an ambulance was not needed.
The ambulance service said offering a call back from the out-of-hours GP was the "correct and appropriate" response which the Parkins chose not to accept.
'Based on evidence'
The Parkins dispute being offered a call.
Mrs Parkin said: "I didn't answer in the right way so I didn't tick the right boxes and so that's why they didn't come out. We deserve better"
The next day Mr Parkin took his wife to Poole Hospital after a GP practice nurse called at their house. Mrs Parkin was eventually diagnosed with a brain aneurism which required surgery.
South Western Ambulance Trust has apologised for the standard of service, admitting "some aspects of the call could have been handled better", but insisted its triage system for assessing patients over the phone was robust.
Medical director Dr Andrew Smith said emergency medical advisors were "highly trained and monitored".
"The series of questions asked are developed by doctors and experts in the field and are based on evidence to ensure we get the right questions asked to get the right care to the right patients at the right time," he added.